Cherie: Hygiene Department Coordinator, Fun Ambassador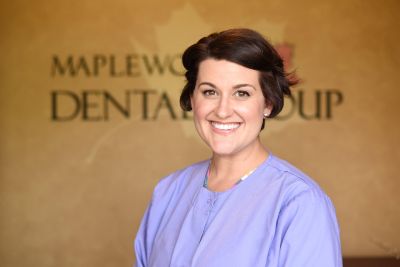 Cherie has been working at Maplewood Dental Group since 2004. She always knew she'd have a career in caring for others. After exploring other medical professions, she found that the relationship between patient and dental hygienist was unlike any other. She loves making her patients laugh and feel comfortable during their dental visits.
Nashua has been Cherie's home since she was 5 years old, and she has been a patient at this office from age 6. She joined Maplewood Dental Group in 2004 after completing her degree in Dental Hygiene and Local Anesthesia license from NHTI in Concord, NH.
Cherie enjoys anything, anywhere if it is with her husband and son. She enjoys volunteering and has been a big sister for Big Brothers and Big Sisters of Nashua for 10 years. She is known as the "Halloween Queen" and is usually training for a half marathon, at the beach, or planning a Walt Disney World vacation.
Angela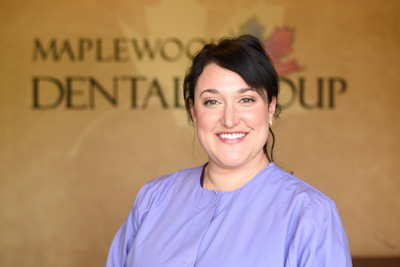 Angela has been with Maplewood Dental Group since 2004. She loved going to the dentist when she was a little girl and has been a patient at Maplewood Dental Group since the 1980's. She graduated from Quinnipiac University with a Bachelor of Science degree in Marketing Management. During her years at Quinnipiac, she lived in an apartment above a dental office which she found fascinating.
In 2005 her love for dentistry brought her back to Maplewood Dental Group as a Dental Assistant. Angela graduated from NHTI with a Dental Hygiene degree and license to administer Local Anesthesia in 2008 and became a dental hygienist at this office. She also enjoys assisting Dr. Marium and Dr. Paul when their assistants are away.
Angela lives in Bedford, NH with her husband Tom and two daughters. Her favorite thing about Maplewood Dental Group is having so many multigenerational families as patients and an amazing group of dental teammates.
MJ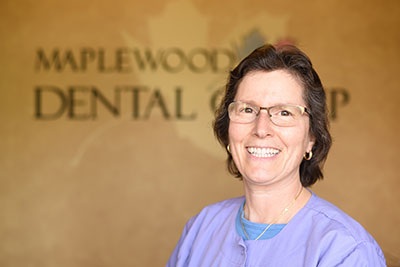 MJ has been a Dental Hygienist at Maplewood Dental Group since 1996. She enjoyed dental visits as a child and was a dental assistant in High School. Since then she has had a rewarding career in the field of dentistry.
MJ has a Bachelor of Science degree in Dental Hygiene and Community Health Education from Northeastern University. Originally from Connecticut, she enjoys living in New Hampshire with her husband. She has a son who is a software engineer, and a daughter and son in law who are both teachers. She also has two grand puppies and one grand kitten.
MJ is active in her church and sings in two choirs. She also volunteers for Home Health & Hospice Care and is an active member of the American Legion Auxiliary. She enjoys travel, hiking, biking rail trails and is beginning Tai Chi.
Jennifer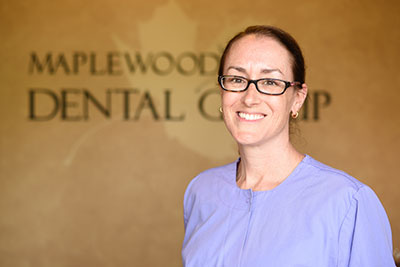 Jennifer has been at Maplewood Dental Group since 2007. She joined the field of dentistry because she loves caring for people and values the relationships she has formed with her patients and their extended families. She grew up in Maine and graduated from University of Maine with a Dental Hygienist degree and Local Anesthesia Certification in 1997.
Jennifer lives in Nashua with her husband Jeff and two kids, Julia and Chase, and has been working at Maplewood Dental Group since 2007. When she is not working, she enjoys running, hiking, biking and spending time with her family at the lake.
Shelley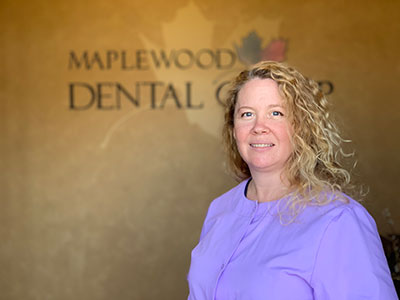 Shelley has been working at Maplewood Dental Group as a temp since 2015 and joined our team permanently in 2019. She attended NHTI in Concord, graduating with Honors with an Associate Degree of Science in Dental Hygiene. Shelley has worked as a hygienist in general dentistry, as well as pediatric & periodontal offices. Prior to becoming a dental hygienist, she worked as an independent insurance agent, assisting clients with understanding their health & dental plans. She is passionate about helping others and is always pursuing lifelong learning.
Shelley is a Nashua native and resides here with her fiancee and daughter. She has also lived in California & Hawaii. Shelley loves to travel and is always planning a trip somewhere or just coming home from one. Recent trips include Paris, Mexico, Alaska & Hawaii. She also loves hearing about her patients' travels and stories, so feel free to spark up a conversation about what you are up to. In her free time, she likes to garden, cook and spend time outdoors with her family.
Gina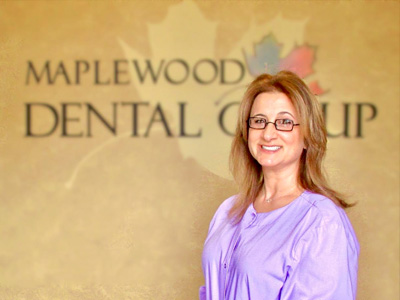 Gina has been a practicing hygienist since 1986 and recently joined the Maplewood Family. She completed her degree in Dental Hygiene from Westbrook College, which is now University of New England in Portland, Maine. She prides herself in building lasting, life-long relationships with her patients, educating them for optimal dental health for life.
Gina and her husband opened their hearts by adopting their two handsome sons, who keep them super busy with sports. They believe their boys are their biggest blessing in life. She grew up in Massachusetts but found her home here in Nashua in 1986. Together with her husband and boys, she enjoy traveling, hiking, biking and anything involving the beach!
Linda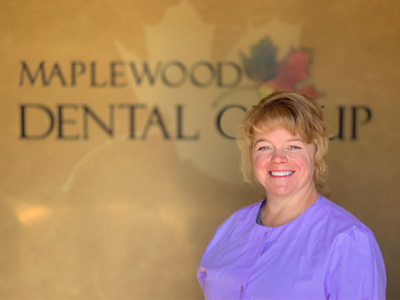 Linda has over twenty years of clinical experience and splits her time working at Maplewood Dental Group, and as a part-time dental hygiene clinical instructor at NHTI, Concord's Community College. She graduated from NHTI with an Associates in Dental Hygiene and completed her Masters from Massachusetts College of Pharmacy and Health Sciences. She is certified in local anesthesia and administration of nitrous oxide sedation.
Linda's passion for the dental hygiene profession has enabled her to be a lifelong learner. It is with this knowledge and passion that she aims to guide future dental hygienists to be successful as oral health experts and enjoy the profession of dental hygiene.
When not working clinically or teaching, Linda spends time with her husband, family, and friends. She likes traveling, biking, boating, gardening, and enjoying life to the fullest.